Monday, March 29, 2021
Introducing The Theology Circle
We're excited to introduce the Theology Circle, a group of Jesus Collective leaders joining together to provide theological direction and resources for our network, mentor theological leaders, and provide a peaceful voice for this growing Jesus-centred movement around the world.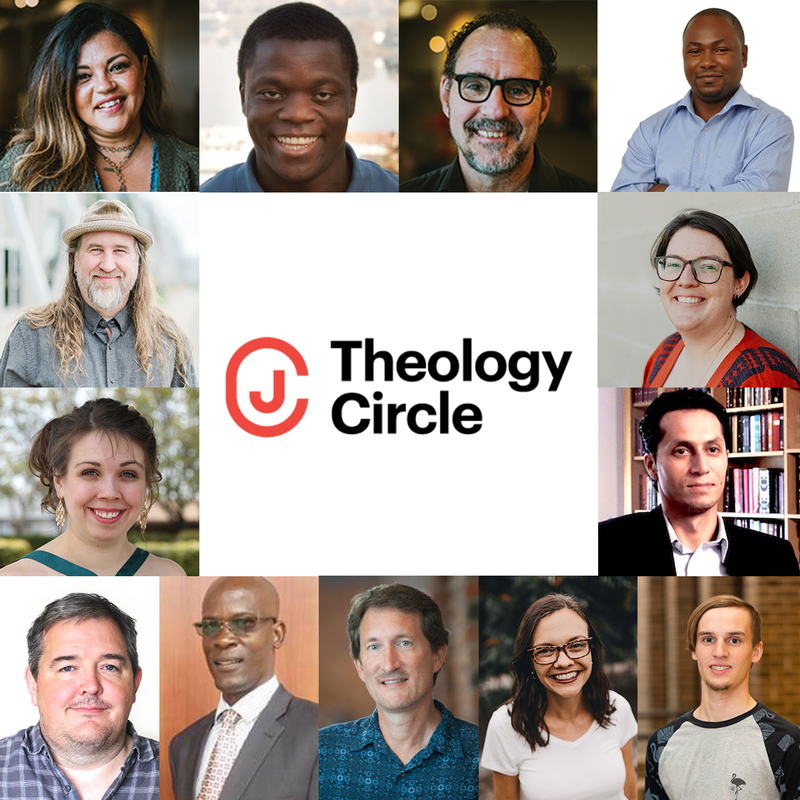 The Theology Circle includes a diverse mix of theologians and practitioners from multiple denominations and backgrounds, with various ministry roles, and, most importantly, a shared commitment to placing Jesus at the centre.
The team is currently made up of 13 gifted women and men from six countries, across four continents, who are passionate about equipping this movement in the Jesus Way. We're grateful for these amazing pioneer leaders and look forward to incorporating more Jesus-centred voices in the Theology Circle over time.

What's the point of the Theology Circle?
To develop a solid and thorough articulation of Jesus-centred theology that serves as a living, ever-learning, lasting foundation for Jesus Collective and the movement; focusing on integrated, ​"lived out" theology vs. abstract or purely academic resources
To build and sustain a growing library of topical Jesus-centred theological resources that equip churches and leaders to understand and apply Jesus-centred theology in practical, missional ways, supporting active evangelism and discipleship amidst the realities facing the church today (and tomorrow)
To model and increase understanding of the centred-set, third way paradigm as a healthy framework within which to practice and live out our theology
To intentionally amplify marginalized Jesus-centred theological voices; to link arms with and help advance the Jesus-centred movement globally
To identify and develop theological leaders, with an emphasis on encouraging younger leaders, female leaders, and leaders of colour
Meet the Theology Circle
(Clockwise from top left)

Shawna Boren is the Engagement Pastor at Woodland Hills Church in St. Paul, Minnesota. She previously served in various pastoral staff roles for over 20 years in both Texas and Minnesota. Shawna is married to Scott and is mom to Deklan, Gavin, Jensen, & Afton. She loves her role at Woodland and is passionate about helping people find their place of belonging.
Hank Johnson is Senior Pastor at Harrisburg Brethren in Christ Church. He has a Master's of Divinity from Evangelical Theological Seminary, and his ministry experience has been gleaned through serving at camps, community and youth centres, and in the social work field. Hank and his wife, Shell, live in Harrisburg with their daughters, Harper and Kennedy.
Greg Boyd is a former atheist, theologian, author, and senior pastor of Woodland Hills Church in St. Paul, Minnesota. He holds a PhD from Princeton Theological Seminary and has authored or co-authored 18 books, including the best-selling and award-winning Letters From a Skeptic and The Myth of a Christian Nation.
Edem Morny is President of Simply Christ Ministries, an ecumenical effort to give voice to Jesus-centered discipleship in a Ghanaian landscape dominated by folk Christianity. He's also a bi-vocational Christian leader of a small neo-Anabaptist church called The Jesus Community in peri-urban Accra with a passion for theology and technology. He's married to Josephine with three children, and lives in Accra, Ghana.
Natalie Frisk is lead pastor at The Meeting House Brantford, as well as curriculum pastor for One Story kids and youth curriculum. She is author of Raising Disciples: How to Make Faith Matter for Our Kids (Herald Press). Natalie has an MTS from McMaster Divinity College and is presently working on her doctorate in practical theology with an emphasis on the spiritual experience of children. She is married to Sam and mom to Erin.
Santiago Espitia is Director of the Mennonite Biblical Seminary of Colombia, and works as a Professor and University Researcher of Ethics and Theology. Santiago is author of Una Espiritualidad Que Entreteje (A Spirituality that Weaves). He's a member of the Brethren in Christ Church of Colombia and lives in the city of Bogota.
Josh Patterson is 26 years old and married to Noelle. He is host of the popular podcast ​"Theology Doesn't Suck!", and most recently served as the High School & Young Adult Pastor at a multi-ethnic/multi-cultural community church in Gaithersburg, Maryland. Josh is particularly interested in Jesus-centred theology as well as bringing a Jesus-centred flavour to the world of open and relational theology.

Leanne Friesen has served as the Lead Pastor of Mount Hamilton Baptist Church for 15 years, and she speaks at conferences and special events. She's particularly passionate about helping and encouraging women preachers to find their preaching voice, and she loves to find creative ways of making sermons come to life in practical ways.
Paul Eddy is a Teaching Pastor at Woodland Hills Church and a Professor of Biblical and Theological Studies at Bethel University in St. Paul. He's authored or edited over a dozen books, including the award-winning The Jesus Legend: A Case for the Historical Reliability of the Synoptic Jesus Tradition (with Greg Boyd), as well as numerous articles and essays.
Levison Soko lives in Lusaka, Zambia and serves as District Overseer for the Brethren In Christ (BIC) church in Zambia. He has a Bachelor of Theology, a Diploma of Theology, as well as certificates in Psycho-social HIV/AIDS Counselling, Christian Counselling, and peace and conflict transformation. He lectures at Sikalongo Bible Institute in addition to his responsibilities with the BIC.
Adam Dyer is leader of Yeovil Community Church in Somerset in the Southwest of England. He's committed to leading a broad, inclusive church which magnifies Jesus at the centre and works passionately in partnership with the community to bring whole community transformation.
Meghan Good is Teaching Pastor at Trinity Mennonite Church in Glendale, Arizona. She's the author of a book on biblical interpretation (The Bible Unwrapped) and is currently writing a second book on contemporary loneliness and the gospel. Theologically, her interests include biblical hermeneutics, spiritual practices, preaching, and rediscovering the place of the Spirit in Jesus-centred faith.
Bruxy Cavey is a Senior Pastor at The Meeting House, a multisite Anabaptist congregation based in Ontario, Canada. He's the author of the bestselling books The End of Religion: Encountering the Subversive Spirituality of Jesus and (re)union: The Good News of Jesus for Seekers, Saints, and Sinners. Bruxy and his family live in Hamilton, Ontario.