Jesus Collective is more than a name to us. It's an invitation to like-minded leaders and churches to enter into relationship and community together. It means we're a relational network on mission to shape and extend a Kingdom movement that is centred around Jesus.

So … what's your next step?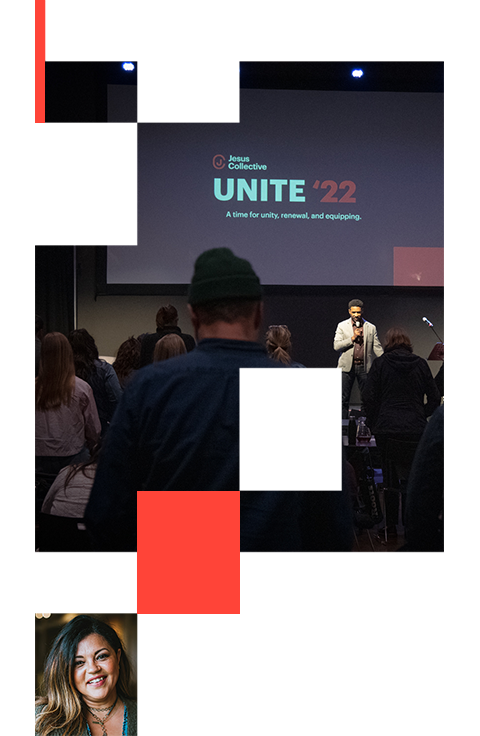 #
Partnership
Partnership is the relational backbone of Jesus Collective – the fabric that weaves our network together. Partners are the churches, ministries, and individual leaders that are relationally connected to the Jesus Collective community and engaged in the vision and ongoing mission of the network. They're our jam. Our peeps. Our core.
Partners share Jesus Collective's vision and centred-set, third way paradigm and participate in the activities of the network together. We're all different shapes and sizes and come from different places and backgrounds, but what we have in common is our passion and commitment for placing Jesus at the centre of our lives and ministries.
Interested in Exploring Partnership?
"Jesus Collective brings together leaders & churches who resonate with Anabaptist values, keeping Jesus at the center, and working to equip leaders & churches from diverse backgrounds on how to live and love like Jesus."

Hank Johnson, Senior Pastor

Harrisburg BIC Church, Harrisburg, PA
"As a pastor, I hunger for connection with others across the movement who we can learn from and share what God has blessed us with. Jesus Collective is creating that space and I'm pumped to be part of it."

Melissa Ytsma, Pastor

Richmond Hill, ON
"I'm excited to be part of this network alongside diverse but like-minded peers and am already taking back language and equipping that I can share in my church & ministry context to help us live out the Jesus-centred way."

James Thompson, Pastor & Ministry Leader

Berwick, VIC, Australia
"It's difficult to find a trusted network of like-minded relationships & resources that has a distinctly Jesus-centred ethos. Being connected with Jesus Collective is a huge value for an urban church revitalization like ours!"

Shelby & Anne Boese, Lead Pastors

Pilgrim Church, Vancouver, BC
"Jesus Collective has provided me with a space where I can journey with other Jesus-centred leaders. It provides an atmosphere of mutual support and challenge in that journey and a place where I can contribute my gifts."

Paul Kiss, Senior Pastor

New Life Church, Collingwood, ON
#
Leadership Formation
Relational, Jesus-centred leadership formation is one of the key areas of focus for Jesus Collective. We create learning and development experiences that equip Jesus-centred church leaders for transformational leadership and mission in a post-Christian reality.
We do this through a number of ways, including high quality cohort-based learning and formation, networking, interaction with thought and practice leaders, leadership coaching, and peer-to-peer mentoring.
Learn more about our learning experiences below.
Online Learning Collectives
We run a series of Online Learning Collectives – five week, cohort-based formation experiences featuring facilitated small group learning, weekly spiritual practices, live interaction with thought leaders, one-on-one coaching, interactive online forums, and expert-curated learning resources.
Learn more by reading about one of our courses: The Inner Life of a Jesus-Centred Leader

Want to experience an Online Learning Collective?
Workshops: Jesus-centred Leadership
We host accessible, concentrated workshops featuring live input from thought and practice leaders on a regular basis. These workshops are aimed at providing focused learning, training, and development for pastors and ministry leaders on specific topics of interest.
Examples include Jesus-centred teaching and preaching, approaches to small group discipleship, church governance best practices, kids and youth ministry, etc.

Innovation Labs
We bring together groups of church leaders to share best practices, solve issues, and collaborate for mission and Kingdom impact. Innovation labs can be structured as single or multi-session gatherings, online or in person, and are custom designed to meet the needs of the participants.
Sample topics include envisioning the future of the church post COVID-19, ideas for effectively reaching spiritually curious people, being on mission in a post-Christian context, Jesus-centred discipleship frameworks and approaches, and church governance best practices.
If you're interested in proposing or joining an innovation lab, let's talk.
Leadership Coaching: One-on-one or team based
Every pastor needs a pastor, and every leader needs a coach. Jesus Collective partners receive access to individual or team coaching from a trained Jesus Collective coach, providing support for developing ministry plans, navigating internal or missional issues, discerning vision, and supporting spiritual direction and formation for you or your team of leaders.
Coaching is available to Jesus Collective Partners. Interested?
# Events

&

Gatherings
Online and in-person events are an important way for us to develop relationships, sharpen our Jesus-centred theology and paradigm, and be formed and equipped together for ministry.

We host a range of events, gatherings, and learning opportunities in various shapes and formats. Check back regularly to stay in the loop. We look forward to seeing you soon!
#
Invest in Jesus Collective
We're called Jesus Collective because we're a collaborative network comprising the contributions of our community on many levels, including finances.
We invite people and organizations who share our vision to invest in advancing a Jesus-looking Kingdom together with us.

Your giving helps us equip more churches and leaders to make disciples in the Jesus Way, produce more desperately needed high-quality ministry resources, and give voice to a growing Jesus-centred movement God is raising up around the world.
Jesus Collective is a Registered Charity (#716049739RR0001)